I went into the centre of Aberdeen today and I still had the borrowed camera in my pocket. Look what I saw: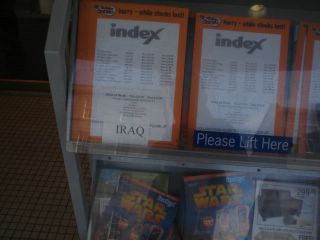 How did that get in there?
I took a few more photos which you can see
here
. I noticed the word in quite a few other places but didn't manage to photograph them all. My favourite was actually in a lift but I had to get out before I had a chance to get out the camera. I wouldn't want to give anyone the impression that I'd put the word there. Not to worry. I'll see if I can spot some more next time I'm at the shops.
Spread the word
.
This post was edited to add the information and links. I'm sure there is an easier way, I just don't know what it is.